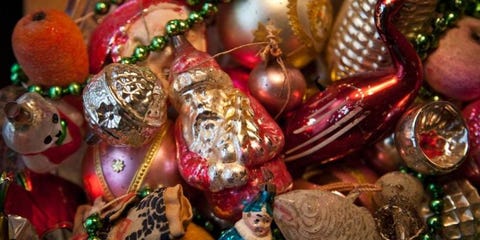 My memories of Christmas as a kid in the nineteen-fifties are starting to fade a bit, more than sixty years on. Most now are snapshots of moments in time, such as that of the lo-o-o-ong dining room table -- with all the leaves in use -- covered with a linen cloth and laid with the best bone china, silver and crystal; lit tapers in silver candle sticks; silver and china serving dishes with silver ladles, large spoons or forks; the fat gravy boat and two glass dishes of home-made cranberry sauce -- and the
piece de resistance --
The Bird -- on an enormous platter at my dad's place, with carving equipment nearby.
Then there was the tree, laden with gifts (the 'Santa Gifts' didn't appear till Christmas morning, but the others teased and tempted under the evergreen for a good week before The Day) and adorned with tinsel (the kind you had to throw on and spent the rest of the year finding in the upholstery, under the carpet and inside your clothes!), colourful lights, and the most beautiful glass ornaments. I still have two glass Santas from that time, and as an adult with my own children, managed to acquire some replacements for the original glass balls and globes that hadn't stood the test of time.
"Vintage" ornaments -- too new to be antiques but old enough to stir the heart and rekindle memories -- seem to have increased in popularity in recent years, like so many other "old" items, including furniture styles, some clothing styles, dishware and crockery...and remakes or "returns" to favourite film subjects such as Mary Poppins (who 'Returns'), Peter Pan (through
Wonderland,
the story of its author, James Barrie), Beatrix Potter and this year, Mr. Rogers.
We long for what nostalgia convinces us were kinder, gentler, simpler times, more innocent times -- whether or not that was really the case!
To some extent the continuing surge of interest in quilting, embroidery, weaving, felting, crochet and knitting is part of this hankering for something simpler, slower, seemingly more 'authentic' (to use a word that is in danger of serious over-use!)
The
Cambridge English dictionary
defines 'vintage' thus: "[something]
of high quality and lasting value, or

showing

the

best

and most

typical

characteristics

of a

particular

type

of thing, especially from the past" -- and anything hand-made, created over time and with love and care -- seems to me to fit that definition.
Those of us who knit or crochet are well aware of this, and so we take care to make items that will be loved, worn and passed down -- even if all that is left of them is a memory: baby blankets, mittens, scarves, cowls, shawls, hats, booties, baby garments, even stocks. And yarn-crafters love to make them with good quality yarn -- something warm, colourful, and reasonably easy to care for.
That's why this week we offer you something that fits that bill. These yarns are "orphans" -- the last of their dye lot or colour-way -- skeins of a classic wool-synthetic blend that combines warmth and easy care with comfort and superb stitch definition.
In other words, it's "Vintage"!
Vintage DK
100 grams = 265 metres (290 yards)
52% Acrylic
40% Wool
8% Nylon
and
Vintage Chunky
100 grams = 124 metres (136 yards)
50% Acrylic
40% Wool
10% Nylon
Regular price (either weight): $11.50 per skein
Limited colour selection and limited quantities in both weights...but a little goes a long way! A single skein of the DK version will make a hat or a pair of adult-sized gloves or mittens, a cozy cowl, a cute baby sweater -- even a pair of socks. Even with less than 125 metres per skein, the same thing can be said of the chunky weight.
This year, the first night of Hanukkah begins at sundown December 22. Christmas Eve is two nights later.
You still have a month
to make those last-minute knit or crocheted items for the festive season, and we're here to help.
See you in the Shop!
NOTE: Christmas Store Hours will be our regular 9am-6pm Monday through Saturday,
except Thursday which is 9am-9pm as usual.
We will close early Christmas Eve (exact time will depend on foot traffic)
and we will be closed Christmas Day and Boxing Day.
*Written by Margaret, who loves to knit with Vintage yarns and vintage patterns.