"...and where she stops, nobody knows!"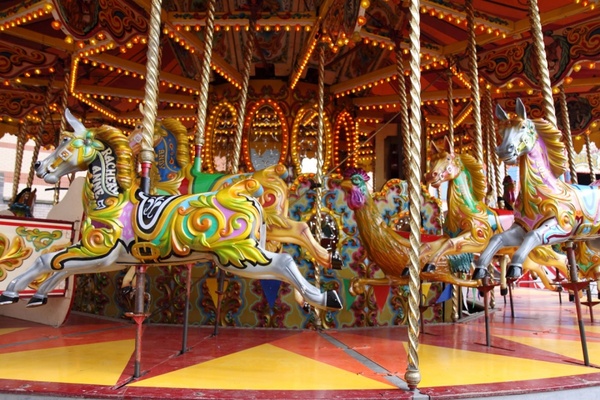 That phrase originated with 'wheels of fortune' and similar games of chance, but it can also apply to a merry-go-round, or a 'round-about' (not the traffic kind!) or a
carousel
. I don't know about you, but this invention, which apparently evolved from early Middle Ages jousting traditions (!), remains one of my very favourite rides at any amusement park or fair grounds.
Whenever we took the family to Heritage Park in Calgary, I insisted on a ride on the antique carousel, which had been moved there from its original home in Bowness Park.
These wonderful creations are so colourful, with beautifully decorated horses and other animals, and music that is very distinctive -- usually played on an organ or caliope, or at least a recording thereof, setting the tone for an afternoon of fun and frolic in the sunshine. I dare anyone to resist smiling when they listen:
I'm thinking it's not only the round shape, but also the colourful nature of this week's Super Special Sale yarn that gives it its name:
King Cole Yarns
Colour-way seen here: #2775 - "Roller Coaster"!
70% Acrylic
30% Wool
Machine washable, hang or dry flat
200 grams = 316 metres (345 yards)
Regular Price: $20.00
With a combination of solid and marled dye repeats, it makes for texture as well as colour, and works well for
baby blankets
,
slippers
,
hats, scarves
and
wraps
! (The Crafty Lady has made a version of her well-known shrug with it, which you can see in the shop. 😊)
You could even make several of these items from one ball -- the perfect portable project for a road trip, a weekend camping or at the cottage, a sunny afternoon on the patio or -- while waiting in line for a ticket to ride on a carousel!
Do drop in this week to outfit yourself for that perfect Victoria Day long weekend project.
See you in the shop!
*Written by Margaret who can knit in cars, on buses, trains and planes...but has yet to try it on a merry-go-round!