Do you live a colourful life?
By that, I mean, do you knit, crochet, embroider and/or quilt by following patterns exactly -- right down to the colours used? Or do you take the pattern and run with it, colour-wise?
I confess I'm of the latter group. I love to play with colour -- and use colours that make me feel good or that suit the person for whom I'm creating, regardless of what the pattern's designer originally used.
I wasn't always this way, though -- especially in my quilting life. When I began as a quilter about 25 years ago, I bought pre-selected bundles of fabric -- where all the fabrics were co-ordinated -- or I bought and assembled kits.

Over the years, though, I studied some

Colour Theory

, and have learned

a LOT

!

In addition to the primary hues (

red

,

yellow

and

blue

) and the neutrals (black, white and grey, which aren't hues), there are

tints

(hues with white added) and

shades

(hues with black added)...

And there are

tones

-- hues with

grey

added, as you see in the picture on the right.

Tones are popular because the grey that's been added to the original hue(s) reduces the intensity. Just the right amount of grey creates a more complex colour that is also often considered more sophisticated than true, bright colours, which are often associated with children -- especially in the realm of clothes, toys and/or furnishings.

In the last few years, for both fabric and yarns, tones -- greyed colours -- have been offered up in layers of tints and shades, for what's referred to as a "tonal" effect.

And we have as

this week's Super Special

such a yarn, which will give you a fabric that is textured with tints and shades of a single colour. It's chunky, so it's just right for hats, scarves, mittens, boot toppers or cowls, when you're in the mood for accessories that have subtle texture, and perhaps just a bit of sophistication.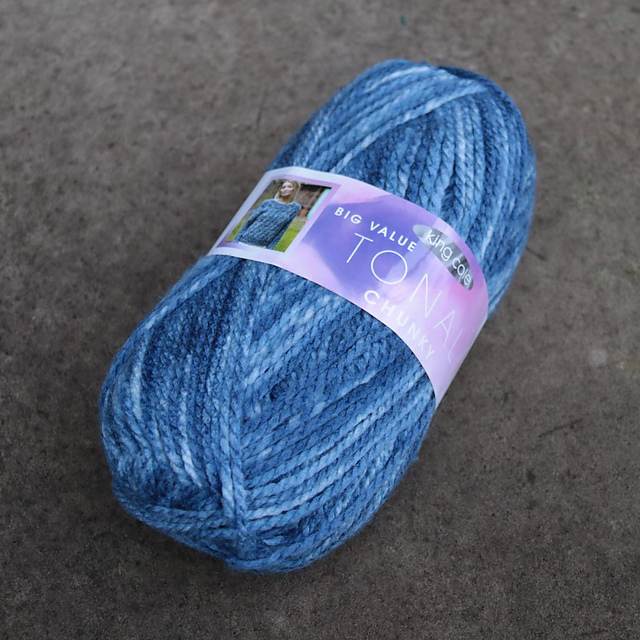 100% Acrylic
100 grams = 152 metres (166 yards)
Regular price: $8.00
Note how it knits up to show off the tints and shades of the tones of colour:
Time to tone up!
See you in the shop!
*Written by Margaret, who prefers toning with yarn to toning at the gym! 😉