Canadians generally mark the Summer Season thus:
START: Victoria Day Weekend -- aka "the May Long"; and
END: Labour Day Weekend -- aka "the September Long".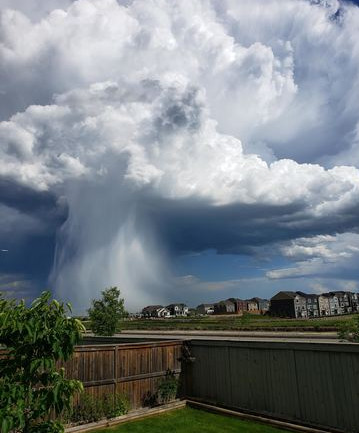 Photo credit: The Weather Network
While it's been Hot To The Max in the Eastern part of our country, out here we've been hard pressed to find even a week's worth of actual summer. You know: days of clear blue skies, soft, light breezes and typical summer activities from dawn till after dark. Long walks, gardening, catching some rays, swimming, boating, dining al fresco with veggies and steaks or burgers or whatever on the barbeque, and topping the evening off around the fire pit.
That didn't happen here much this year. There were high winds, thunderstorms, crop-destroying hail storms, funnel clouds, and drizzly days that were more like October than June, July or August.
And now?
Labour Day has come and gone; the kids are back at school and vacation time is but a memory. If the weather remains cool, chances are there won't be any need to mow the lawn -- even one last time. Instead, it's time to find space in the shed for that new 'fire burner' or lawn furniture you bought -- and got to use (maybe) three times.
And it's time to check your wardrobe -- or those of others in your family -- to ensure that all the fall and winter-wear is ready and waiting. No orphaned mittens or gloves. No scarves with holes. No toques that are now too small.
And if there are gaps in that wardrobe, it's time to cast on!
Fortunately you have us -- The Crafty Lady -- to help you find the right project and/or the right yarn for you to knit or crochet up quick toques and such so that you're ready when our early mornings turn frosty.
One such yarn is featured as our Super Special this week -- in the perfect autumn orange hue:
Hayfield Yarns
70% Acrylic
30% Nylon
100 grams = 155 metres (170 yards)
Regular Price: $8.50
And here's a reminder -- this month you can find us in two places (at once!):
In the shop -- Monday through Saturday, 9 a.m. - 6 p.m. except Thursdays, when we're open till 9 p.m.; and
At Creativfestival at the Spruce Meadows Equiplex south of Calgary: Friday (9 a.m. - 6 p.m.) and Saturday (9 a.m. - 5 p.m.) September 20 & 21. Ask at the shop for a two-for-one entry coupon!
See you in the shop -- or at our booth!
*Written by Margaret, who'll be serving you with a smile in Lacombe while Lori, Anne and Muriel are at the Show. 😊