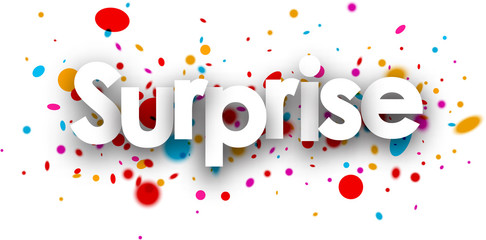 In Alberta we have an old saying: "If you don't like the weather - wait 10 minutes!". Summer weather is full of surprises. We can go from a heat wave, setting record temperatures (and records for power usage) to the most spectacular lightening and thunder rainstorms -- and back -- all in less than an hour. After the storm - the clouds clear off and the stars shine brightly. Even better, it is cool enough to sleep comfortably.
The farmers are hoping for rain, as they need moisture after all the heat. The pounding rain of our recent storms leaves surprise damage to their crops. The animals do not like the lightening and thunder, however they do seem to appreciate cooling off and the respite from the mosquitoes.
I am sure it is not great if you are tenting . . . The rain would soak all the firewood - ruining your bonfire,
Some surprises are good things - some not so much. Recently I was trying to organize a surprise for my husband's birthday. Note: he is ex-military, Ukrainian male . . . trying to surprise him is nearly impossible. The original scheme was to take him to a Blue Jays game (as this is a significant year). The policeman in my husband uncovered our scheme. We did manage to surprise him with an extra grand-daughter! This resulted in a tizzy over "did we have enough food?"; "where were we going sleep everyone?". You know the story.
He did admit (later) he was really pleased she was able to come, be part of the event and we had enough beds and food.
As a rule, The Crafty Lady does NOT like surprises. We all know her as an organized, well-planned store owner. This week she surprised her happy employees, she has decided to break her pattern - and write a new one.
This week's 75% off special is a SURPRISE! Margaret and Anne have no idea what she is planning!!
This in and of itself is a surprise as our boss works very effectively to communicate where she is at and where she would like to be going with the business. She plans well in advance with what she purchases to supply her customers with good product they can enjoy creating wonderful things with.
you have to come into the store

75% off Surprise Special
Posted by Anne Homenuk, happy TCL employee - amateur at creating surprises